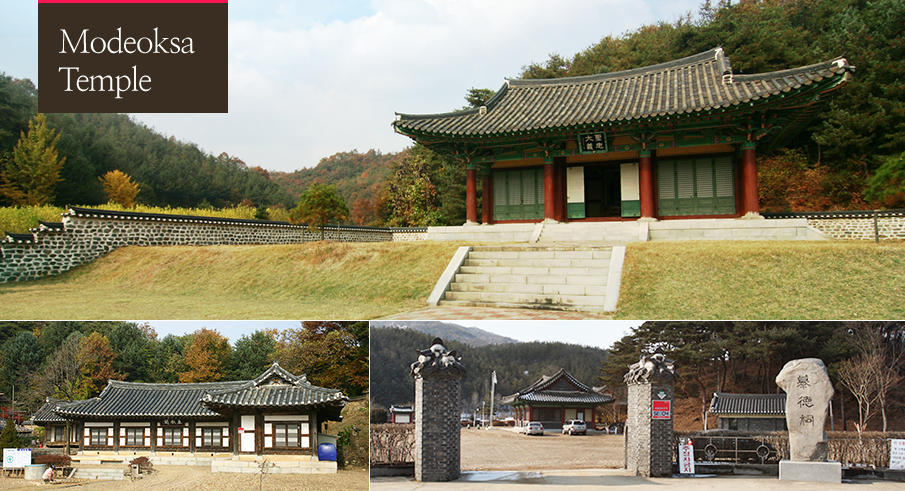 Modeoksa Temple
The Modeoksa Temple established in 1914 houses the portrait of Choi Ik-hyeon (1833~1906), a patriot in the late Joseon Dynasty.
The name of the temple was given by taking "mo" and "deok" from the letter given to Choi Ik-yeon from Emperor Gojong that read, "Meonamui deogeul heummohanda (I admire the virtue of Myeonam)." As Yi Hyang-no's pupil, Choi Ik-hyeon was well versed in literature and moral philosophy. He passed the national examination in 1855 in the 6th year of King Cheoljong's reign, and was promoted to the position of Jangnyeong in Saheon-bu. HoweveIn 19r, after filing public appeals, criticizing the policies implemented by Daewongun, he was exiled to Heuksan-do Island.
Upon the signing of Japan–Korea Treaty of 1905, he asserted the need to punish the 5 traitors behind the scheme and wrote 16 crimes committed by Japan. He recruited volunteer soldiers in Taein, Jeollabuk-do Province, to find against the Japanese army. After being caught by Japanese soldiers, he was sent to Daema-do Island, where he refused to eat the food served by the enemy forces and died in honor from starvation. Subsequently, shrines were erected in multiple places in his honor. At the Modeoksa Temple, a shrine honoring Choi Ik-hyeon was built next to his former residence, and there is also Jangseogak, containing numerous books, and an exhibition hall, where his belongings are on display.