County Brand of Cheongyang, Chilgapmaru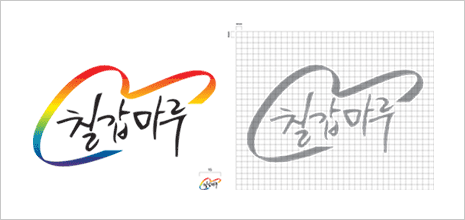 Chilgapmaru is the county brand of Cheongyang, with a visual representation of the notable characteristics of the county. This is the most important element of Chilgapmaru's brand identity system.
Significance of the Symbol Mark
The rainbow designed in a heart shape represents diversity through the various colors and love and affection for consumers, whom the county wishes to serve. The calligraphy represents the county's strong will to widely promote Cheongyang and its brand.
Color
The color of Chilgapmaru is one of the three most important elements of the brand identity system, along with the symbol mark and logo type. This color is used in a wide range of settings and materials from the symbol mark to proposals and printed materials.
Main Color
Blue
C100%+M40% Orange
M40%+Y100%
Sub Color
Green
C50%+Y100% Red
M100%+Y100% Dark Blue
C100%+M100%+Y20% Yellow
Y100% Purple
C30%+M90% Gold Silver