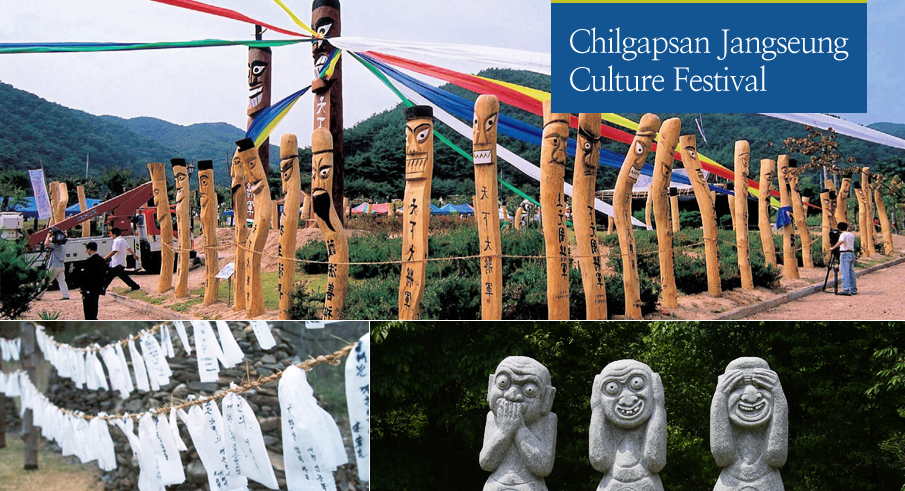 Chilgapsan Jangseung Culture Festival
The region around the Chilgap Mountain is not only known to have beautiful, unpolluted nature, but also known for the best place for preservation of jangseung, or traditional totem pole of Korea. The Chilgapsan Jangseung Culture Festival aims to further develop and pass on the jangseung culture to the future generations.
Cheongyang, which has established itself as the center of jangseung culture, will provide a wide range of events that will delight the eyes of the visitors at the festival. It will be filled with educational programs, where participants can learn about the folk culture of Korea. There are plans to develop the local festival into an international event as part of the efforts to promote tourism in the former Baekje regions and Chilgapsan Mountain.
The festival which kicks off with an opening ceremony at the Chilgapsan Jangseung Park in mid-April every year is filled with a variety of events such as the Chilgapsan jangseung ritual, erection of a massive janseung and sotdae, demonstration of jangseung-carving, and exhibition of original jangseung works. It is a festival with infinite potential to develop into an international event, attracting people from all over the world.
Festival: Origin and Characteristics
The Chilgapsan Jangseung Culture Festival held in Chilgapsan Mountain will further promote Cheongyang as the center of jangseung culture in Korea. It offers many exciting events that delight the eyes of the visitors and provides a chance to learn about folk culture. By developing the tourism resources of Chilgapsan Mountain and the former Baekje region, the festival demonstrating the unique characteristics of the region is expected to soon emerge as an international event.
Regional Characteristics
Traditionally a farming region, Cheongyang is a clean area that's been blessed with a beautiful natural environment. It is a famous producer of chili pepper and gugija, and has well-preserved traditional culture, which can be witnessed through the local events and festivals including the jangseung ritual.